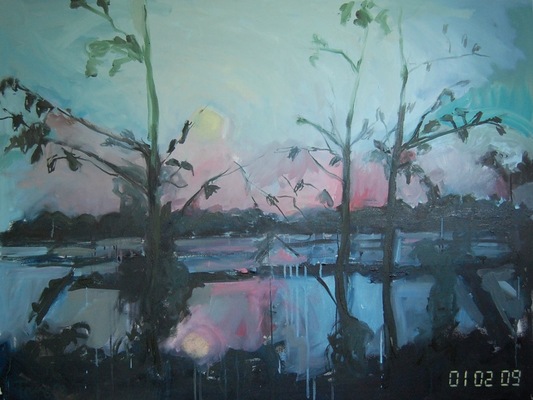 image: Watery Sunset, Thailand, 1.02.09
I come to painting from a background in drawing, printmaking and filmmaking, and elements of all three of these pursuits inhabit my work. I'm interested in maintaining the sensual or forceful line of a drawing while developing a lushly painted surface which creates space and volume. In my figures and portraits I hope to distill an emotional experience to its barest representation, including just the most meaningful details, conveying both a sense of the mood and the personality of a character, and also hinting at the narrative that brought them to their particular situation. I'm interested in the way our bodies, gestures, and expressions can telegraph meaning so eloquently.

In recent work I have begun to explore the intersection of landscape and figure. I'm interested in the way the environment affects the emotional experience of the subject as well the viewer. In the paintings without a figure, a human presence is felt nonetheless, as a scene experienced through the distorting lens of memory. I think about the meanings we attach to specific visual memories. As a culture, we seem to have a new urgency to our wish to hold onto mementoes of glorious sunsets and beautiful settings, because we sense that the splendor of the natural world is changing and perhaps slipping away. The process of making these paintings has become a meditation for me, on change, loss, and the touchingly human but futile attempt to hold onto a particular moment in time.